charles (@) bikepaths.org
---
---
Welcome to bikepaths dot org - a collection of personal thoughts and ideas presented in simple hypertext format.
Bikepaths is but one person, and not an organization. Maybe like you, a solitary wanderer. Maybe someday we'll be a collective of solitary wanderers, but I doubt it.
For the technically inclined, I'm also recycles.org
Computers, education, bicycles and nature can be a way of life. It's important for young people to be educated about each of these topics.
I am an old-school tech geek, but most of all I love biking, touring alone, with only the essentials. Can you appreciate all of nature along with the heat, wind, rain and cold? I hope to offer inspiration and advice to anyone who wants to get going and keep going.
It's good to encourage everyone to get out to tour around on a bicycle. Long distance bicycle touring build a sense of personal reliability and independence.
Everyone who bikes long distance has their own unique style. I can share my style of touring which works well in most places.
Some suggest I write a book, but I believe a hypertext page is enough. Once you've read it, it should be enough to get going.
---
---
When living in the wild you must fend for yourself, be able to gain wisdom quick, or your life will be shortened. It's through the harsh experiences that we grow stronger. When we cease to learn, we die. Learning is life, and life is learning.
---
---
What do we have to offer others but our own life experiences?
A technomad is someone without a long term residence, yet with a notebook, has the freedom to explore, travel and work anywhere.
The sojourner is a person who stays at a place for a short time, and although this may imply a nomadic life, the stay is in focus, not the journey.
Urban bushcraft is the art and skill of survival in an urban enviroment, similar to those needed in the natural wilderness, but adapted to urban life.
One example of urban bushcraft might be how to have a warm meal and good sleep in any world metropolitan center in the rain or snow without money or contacts.
Sound like fun? Life isn't always the same, and such a life is not for everyone.
In addition, I'm an open source professional with non-profit teaching and helping venues in Southeast Asia and the world.
I carry few possessions, only what's needed for comfort, convenience, utility and productivity while retreating to work off-grid and in nature.
But words as comfort, convenience, utility and productivity mean different things to different people.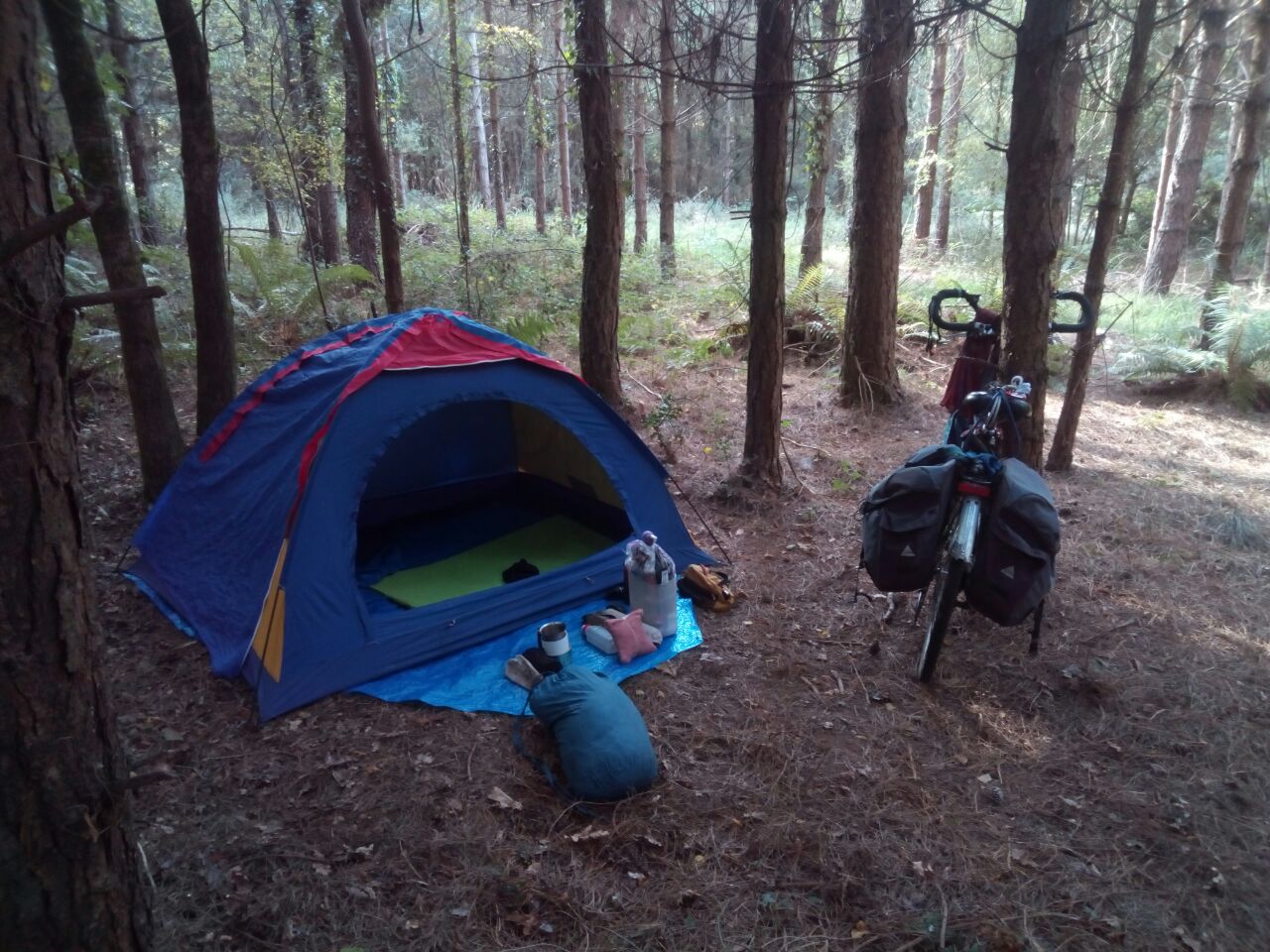 I began bicycle touring during the late 1990's on a recumbent bicycle, and relocated from the United States to Southeast Asia in 2007.
After 10 years of mentoring youths in Phnom Penh, my recumbent bicycle was stolen.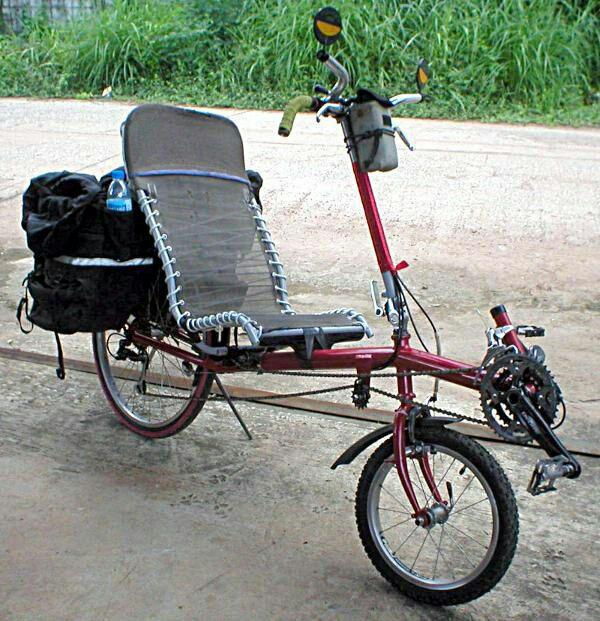 I departed Phnom Penh January 2018 without a bicycle, flying to Singapore and then to Greece.
I bought a second-hand Peugeot touring bicycle in Albania.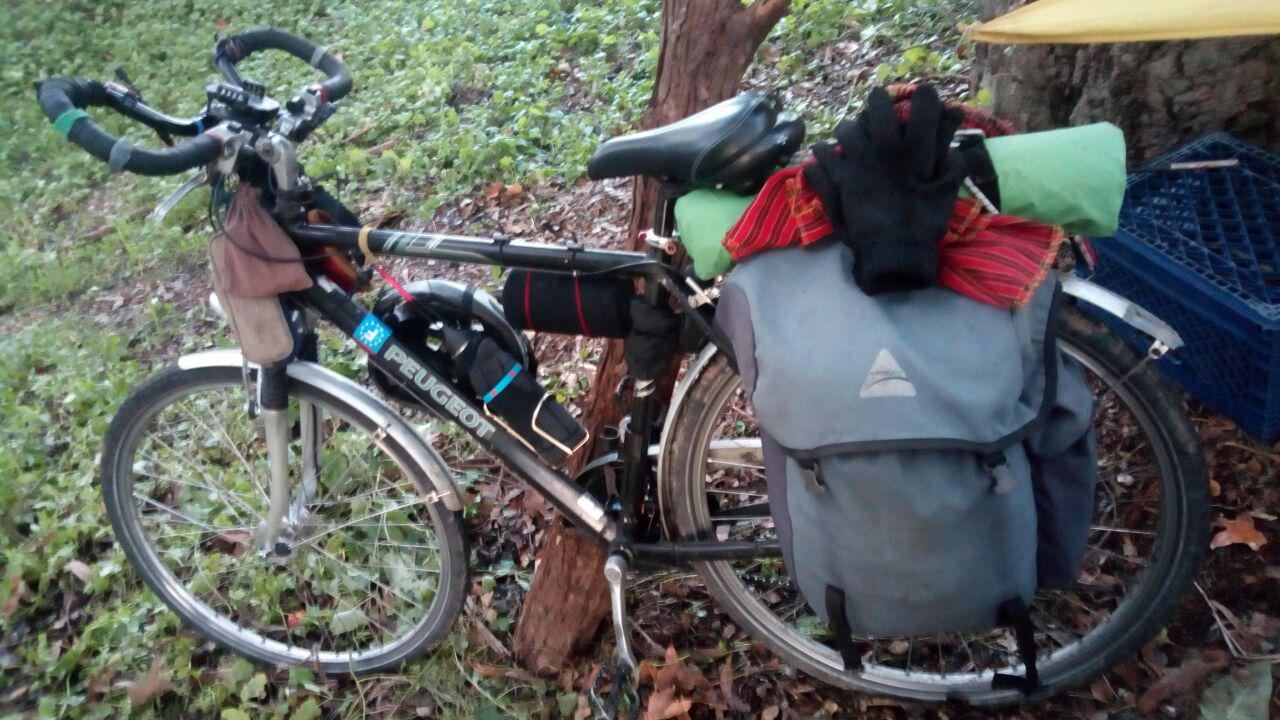 After months in Albania, I ferried the Adriadic Sea to continue through Italy and beyond.
From Italy, I traveled by bus over the Alps to arrive in Czech Republic.
Enjoying Czech for some time, I ventured into Poland, crossed Germany, Netherlands, Belgium, France, United Kingdom, Portugal, Gibralter and Spain.
I enjoyed 12 months touring Europe on a budget of about 150 USD per month for adventure, and to prove it possible.
The world today is one of abundance overflowing.
Passionate about the simple life, I will attempt to persuade others to bow out of conformity.
If you've dreamed of enjoying a life of travel, here's your chance.
Below are the five basic concepts you'll need.
Time. It may seem simple, but most people can't devote the time. If you won't get away from family, friends, possessions and a prior life, big change rarely happens.
Determination. Simple, but your spirit will be severely tested with the rain, wind, cold, heat and hills. You'll probably over prepare, that is, carry a heavy load with too much of the wrong stuff. You will suffer your way through a learning process while at the same time you must persist until you learn what you're doing.

Equipment. At first it may seem a simple matter to buy everything you'll think you need, but that's not the true test of whether or not something will be useful and worth carrying to the top of a mountain. Knowing what to carry and why is often a personal choice developed through years of trial and error. You'll want much of what you carry to be multi-functional and multi-purpose.
Courage and Self-Contentment. If you're the sort of person who tends to need others around to find security, fulfillment, or for diversion and entertainment, this life is not for you. Compatible travel partners for extreme conditions are difficult to find. This is especially true for old folks.

Money, or rather, lack of money. It's not about having deep pockets or even a steady income. You do need some cash flow and the means to transact online. Once you're properly outfitted, it's easy to spend little when knowing the trick. THrift while on the road comes best through personal day-to-day experience. Airfare and ferry tickets are one big expense, but they can be avoided, while bicycle parts, maintenance and repairs cannot.
After a full year of bicycle touring in Europe and the United Kingdom, and having had been absent from USA for nearly 12 years, I arrived in Los Angeles from Madrid in late January 2019.
(Map Update May 2020)
Approximate route I took and every campsite while crossing the USA twice alone on a bicycle in the year 2019
Green dots represent each campsite on my west to east tour, while blue dots represent my east to west tour.
The red line from New Mexico to Los Angeles represents the final leg of the east-west tour.
If the embedded map above is not available,
try this direct link.
If interested in daily life, routes, waypoints and photos, an ongoing real-time journal is located here.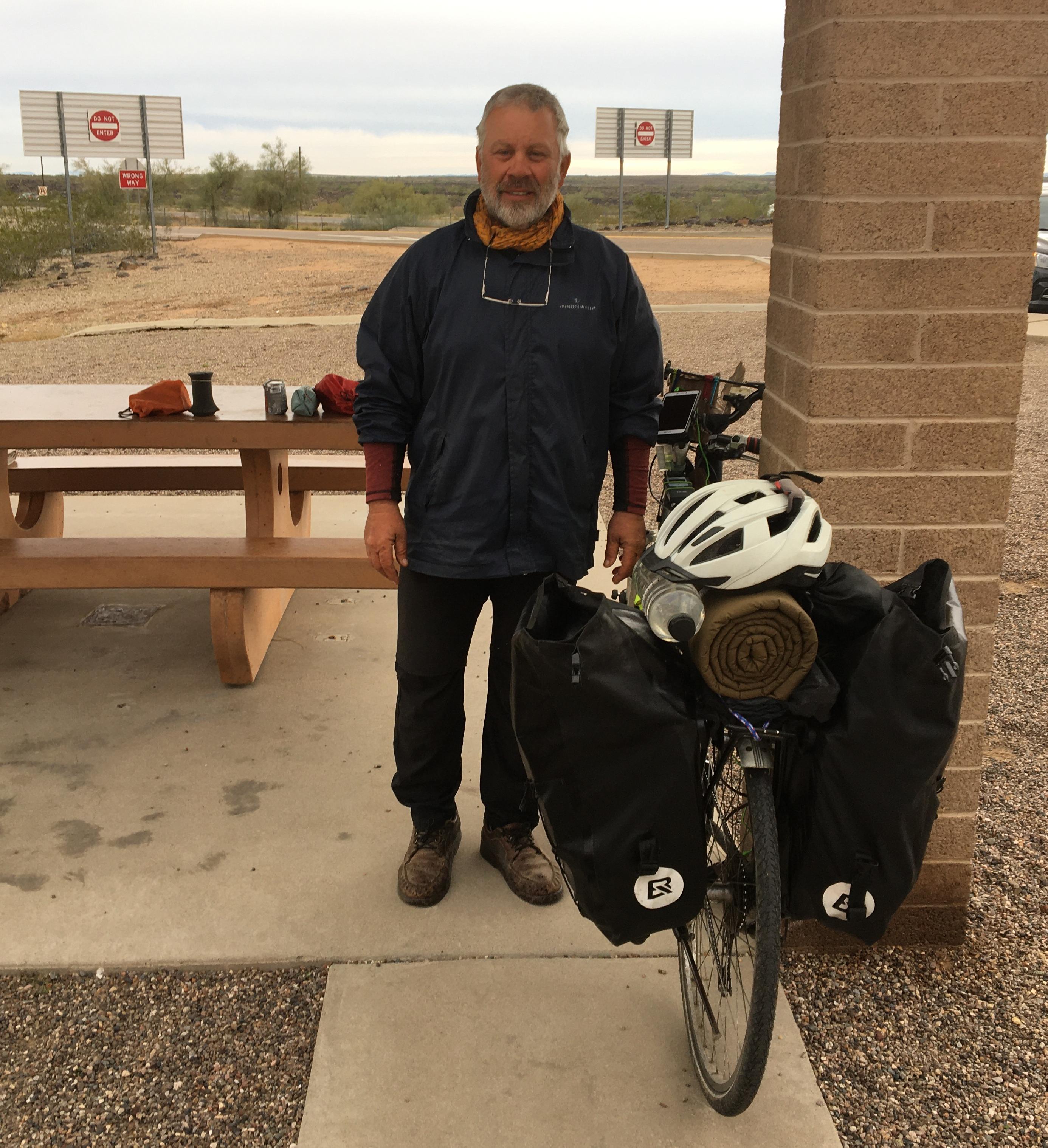 A useful map resource for those looking to tour in my old neighborhood. Very beautiful place in the late spring, summer, and early fall.
If you're looking to enjoy life, it's important to be in the right place, at the right time, with the right people.
If like me, you're a long-distance cyclist in the USA at a pit stop doing research (what else could you be doing?). You may find this map below to be interesting.
This map above is a collection of GPS routes for riding coast-to-coast. Along the routes, you'll find GPS points for ghost towns and haunted place. If you know of other haunted place near you, let me know!
Cynical theories about the woke movement, critical theory and the moral element, cultural communism and Marxism.
Critical theory is a false consciousness where the average person in society votes against their own interests because they don't understand the nature of the oppressed.
Critical theory was spread to lead people to understand and become aware of how society abuses them much worse than they understand.
Critical theory is necessary to overcome oppression. In a quest for a perfect society we present a falsehood wrapped with a grain of truth.