---
charles (@) bikepaths.org
---
My plain HTML webpage for both phone and desktop (I don't use social media).
For those who encourage me to write and for those who seek to adopt a similar path.
Are you alone, feeling way short of cash, and the type of person who seeks adventure? If you enjoy adventure camping and cycling, the great outdoors can be yours, at least for a while anyway.
You're encouraged to send email to ask me anything. The network is our key for sharing and being connected.
The wild side of homelessness is my way of life. Although not a vagrant, I don't have a place to call my own. High rents or automobile living are out of the question.
My US driver's license expired one day while overseas. Gasoline, insurance, registration, smog tests, repairs, maintenance, parking, police checks - I took some time to think things over.
Do we really need all the complications and expenses?
So here I am, that stranger alone with a bicycle along the side of the road. I ride with the security of knowing there is a home to be found someday, somewhere.
Homes are built upon dreams and ambition, all too soon to be left behind. We believe ourselves to have 70 or 80 years. How strong will we be at that stage of the game? One day we each must leave all behind. Friends and strangers die all around, and we never know when our time will come.
I enjoy travel by bicycle, riding alone in nature, traversing the countryside, equipped to handle the sun, wind, rain, cold, heat and snow.
Technology is of key importance, but I keep it to a minimum. The bicycle itself is modern technology, along with photovoltaics, GPS, Android, Linux, Telegram and email. Such tools open up our world to greater possibilities.
I could well do without a phonecard, but some useful applications require a cell number. I have no need to speak on a phone or video conference in real time.
Independent work on the road requires some power tools, but more importantly, time in front of a computer screen, which I don't care to do very often.
I strive for simplicity and minimalism, carrying as little as possible, along with all the necessities.
The highlight of a day may include enjoying a blend of freshly brewed coffee at a roadside table or while camping in the wild.
I an open-source enthusiast, but not a very good one. Bikepaths.org is but me, one person, maybe like you, a solitary wanderer. From earlier interests of years past, I'm also recycles.org but that's another story for another day.
In general, computers, education, bicycles and nature seem to be my way of life. I have a strong spiritual foundation which I reserve sharing only with close contacts or those who ask.
It's important for our next generation to be well informed about all these topics! What do we have to offer others but our own life experiences?
I am old-school computer tech geek, a "tech-nomad" if you will, but most of all I enjoy bicycle touring. Touring alone on a bicycle with only the bare necessities is my way of life.
Can you appreciate all that nature has to offer? I hope to share inspiration and advice to anyone who wants to get going and keep going.
It's good to encourage everyone to get out and ride. Long distance overnight cycle touring builds a great sense of self-reliance and independence.
Everyone who cycles long distance has their own unique style. I'll share aspects of my touring style which might work for you.
Whether urban or rural, when living in the wild, we must often learn to fend for ourselves. We must gain a sense of street smarts quick, else we'll give up or die trying.
It's through the harsh experiences that we develop strength and fortitude. Learning is life, and life is learning. When we cease to learn, we cease to grow, and become dead to the world around us.
A tech-nomad is someone without a long term residence, yet through technology has the freedom to explore, travel and work independently anywhere.
Sound like fun? It's not for everyone, that's for sure. On the other hand, you may have what it takes to open up a new world of adventure for yourself.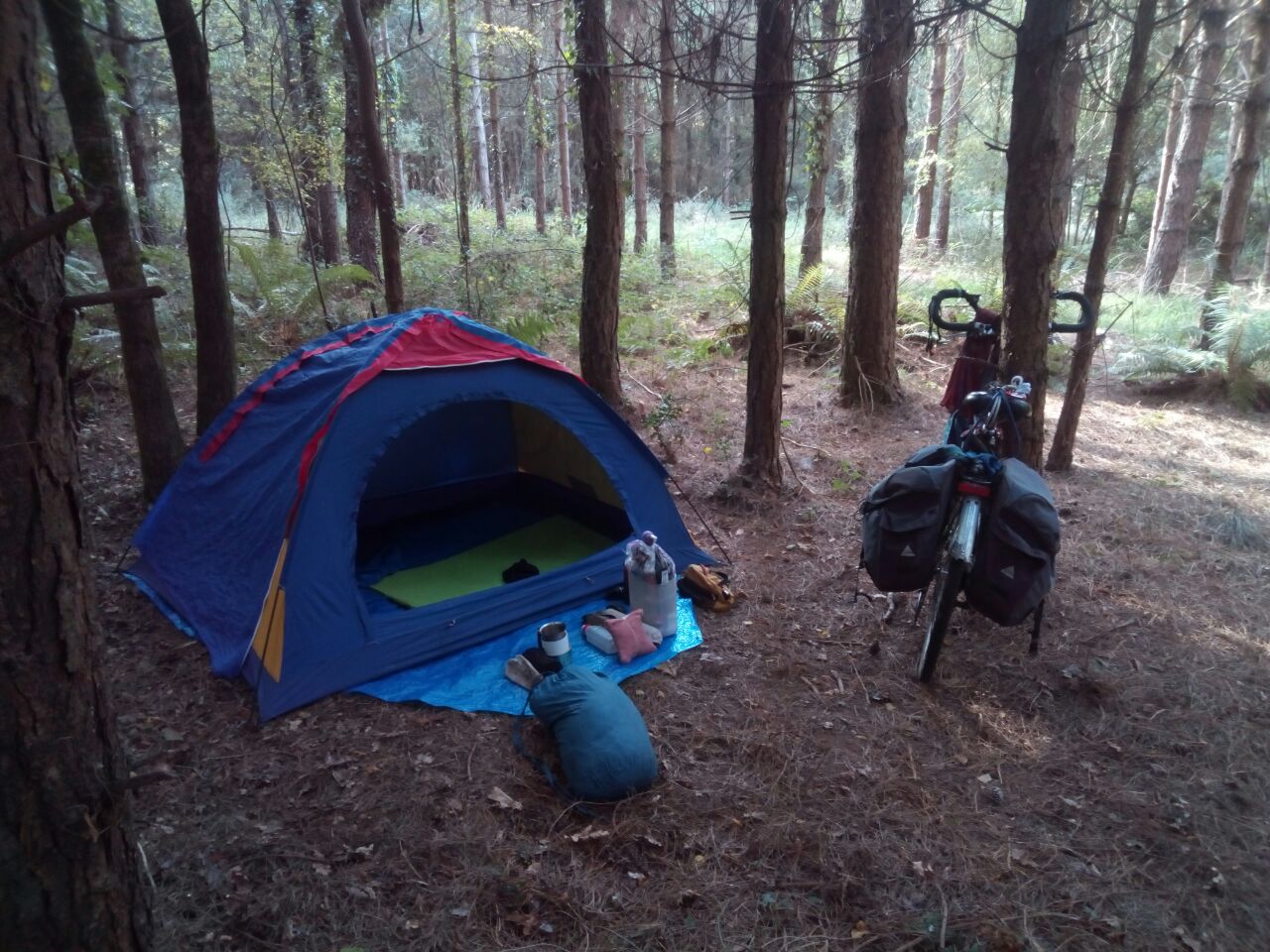 I began bicycle touring during the late 1990's on a recumbent bicycle, and relocated from the United States to Southeast Asia in 2007.
After 10 years of mentoring young people in Cambodia, my recumbent bicycle was stolen.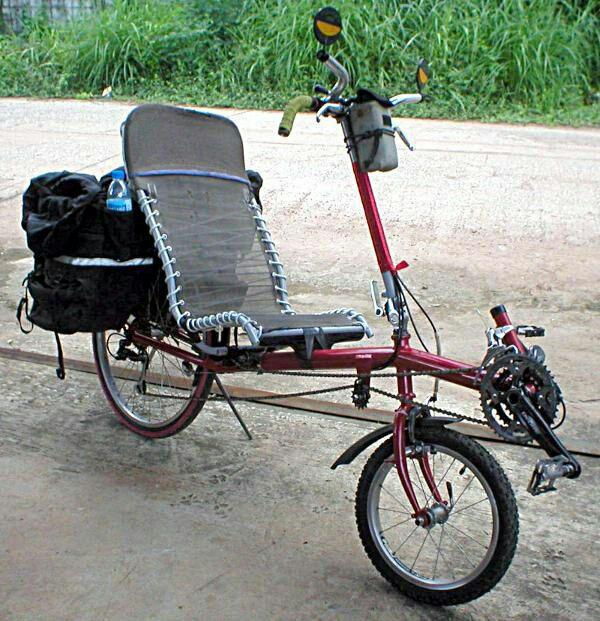 I departed Cambodia January 2018 without a bicycle, flying to Singapore and then onto Athens, Greece.
I bought a second-hand Peugeot touring bicycle in Albania.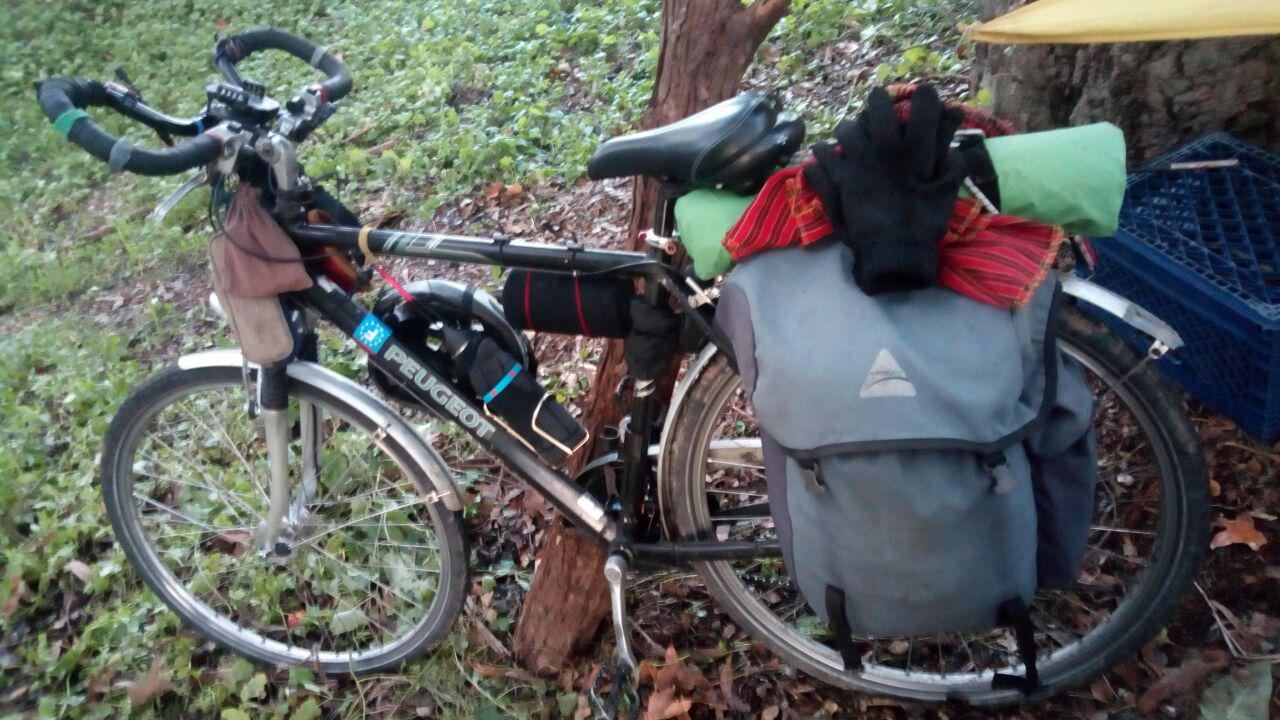 After months in Albania, I ferried the Adriadic Sea to continue through Italy and beyond.
From Italy, I traveled by bus over the Alps to arrive in Czech Republic.
Enjoying Czech for some time, I ventured into Poland, crossed Germany, Netherlands, Belgium, France, United Kingdom, Portugal, Gibralter and Spain.
In all I enjoyed 12 months touring Europe on a budget of about 150 USD per month, both for adventure, and to prove it's still possible.
Our world today is one of abundance overflowing, and many are trapped by modern consumerism.
I have a passion for the simple life, and at times attempt to persuade others to bow out of conformity.
If you've dreamed of enjoying a simple life of work and travel, herein lies your chance to delve deep into my experience.
Below are five basic concepts you'll need to get started. They're listed in order of importance.
Time. It may seem simple, but most people can't devote the time. If you can't or won't get away from family, friends, possessions or a prior life, the big changes rarely happen.

Determination. Simple, but your spirit will be severely tested with the rain, wind, cold, heat and hills. You'll probably over prepare, that is, carry a heavy load with too much of the wrong stuff. You will suffer your way through a learning process while at the same time you must persist until you learn what you're doing.

Courage and Self-Contentment. If you're the sort of person who tends to need others around to find security, fulfillment, or for diversion and entertainment, this life is not for you. Compatible travel partners for extreme conditions are difficult to find. This is especially true for older folks like me.

Equipment. At first it may seem a simple matter to buy everything you'll think you need, but that's not the true test of whether or not something will be useful and worth carrying to the top of a mountain. Knowing what to carry and why is often a personal choice developed through years of trial and error. You'll want much of what you carry to be multi-functional and multi-purpose.

Money, or rather, lack of money. It's not about having deep pockets or even a steady income. You do need some cash flow and the means to transact online. Once you're properly outfitted, it's easy to spend little when knowing the trick. Thrift while on the road comes best through personal day-to-day experience. Airfare and ferry tickets are one big expense, but they can be avoided, while bicycle parts, maintenance and repairs cannot.
After a full year of bicycle touring in Europe and the United Kingdom, and having had been absent from USA for nearly 12 years, I arrived in Los Angeles from Madrid in late January 2019.
From Los Angeles I went on the cross the USA from west to east, and then again from east to west. After 12 years of being away, my continental mainland adventures lasted one full year.
As I boarded my flight in Los Angeles to return to Phnom Penh, all of the world began its shift toward embracing what I now call the "bio-security industrial complex".
---
Useful Resources
---
Approximate route I took and every campsite while crossing the USA twice alone on a bicycle in the year 2019.
Green dots represent each campsite on my west to east tour, while blue dots represent my east to west tour.
The red line from New Mexico to Los Angeles represents the final leg of the east-west tour.
If interested in daily life, routes, waypoints and photos, an ongoing real-time journal can be found here.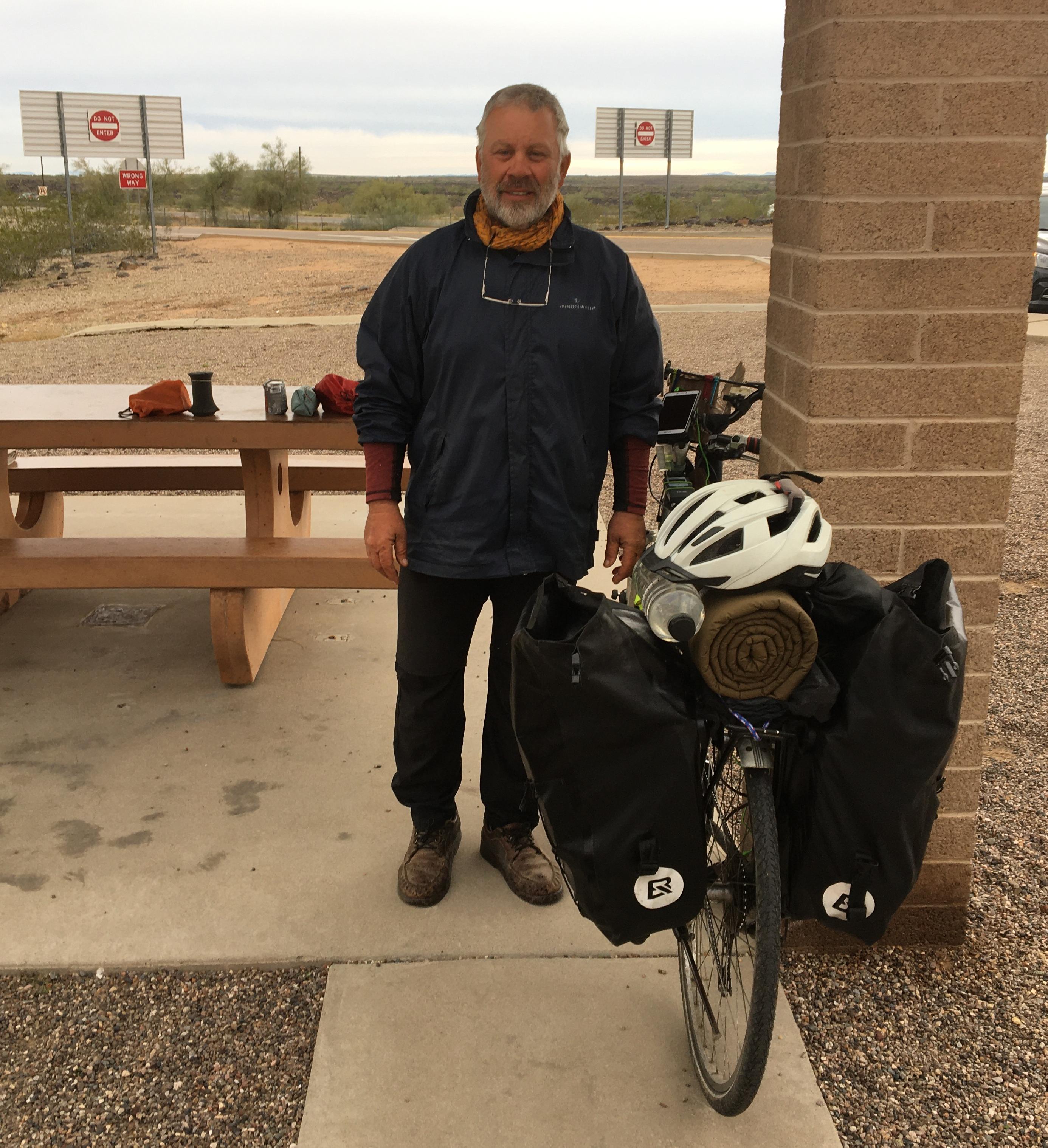 There I stand growing older by the day. Always a need to keep charging mind, body, spirit, and devices!
A useful map resource for those looking to tour in my old neighborhood. It is a very beautiful place in the late spring, summer, and early fall. I'm not too fond of the rain and cold.
To enjoy this life it's important to be in the right place, at the right time, with the right people, with the right mindset.
The map above is a worksheet of GPS routes and points for wandering coast-to-coast. It'll be best to open it in full screen and toggle various data sets on and off. If you're an adventurer, I'm sure you can figure it out.
Along the routes, you'll find GPS points for ghost towns and haunted places. There's never a dull moment camping at such spots. If you know of other haunts near you, please share with me!
---
Dawn of the
Bio-security Industrial Complex
---
This section is under construction and will cover travel experiences from the day I left the USA on January 25th 2020 until present.
As I boarded my flight at LAX from Los Angeles to Phnom Penh with a stopover in China, the western world was only just awakening to the restrictive new mandates being set out for them.
It was a stroke of luck to be able to experience Europe, the UK and the United States all throughout 2018 and 2019 as I had.
The freedom of movement I experienced while on the road will most likely never be available to any living person ever again.
Welcome to the new global bio-security industrial complex, compliments of China and all our sheepish leaders throughout the world.
---
An Ownerless Dog
---
And now it's time for some real entertainment!
A friend sent this song below, and I was impressed by the choice of popular entertainment in Canadian society during the era.
Being a baby-boomer from the US at the time, I had not been aware of this popular Canadian TV series.
It seems in the US during the same period, our delicate little minds were being nurtured with "Lassie" and "Little House on the Prairie".
The Littlest Hobo is a Canadian television series based upon a 1958 American film of the same name.
The series first aired from 1963 to 1965, and was revived for a popular second run spanning six seasons from 1979 to 1985.
The concept of the show was that of "an ownerless dog".
---
Littlest Hobo Lyrics
---
There's a voice that keeps on calling me, down the road is where I'll always be
Every stop I make, I'll make a new friend, can't stay for long, just turn around and I'm gone again
Maybe tomorrow, I'll want settle down, until tomorrow, I'll just keep moving on
Down this road, that never seems to end, where new adventure, lies just around the bend
So if you want to join me for a while, just grab your hat, come travel light, that's hobo style
Maybe tomorrow, I'll want settle down, until tomorrow, the whole world is my home
So if you want to join me for a while, just grab your hat, come travel light, that's hobo style
Maybe tomorrow, I'll want settle down, until tomorrow, I'll just keep moving on
(Instrumental Break)
Maybe tomorrow, I'll want settle down, until tomorrow, I'll just keep moving on
There's a world, that's waiting to unfold, a brand new tale, no one has ever told
We've journey'd far but, you know it won't be long, we're almost there and we've paid our fare with the hobo song
Maybe tomorrow, I'll want settle down, until tomorrow, I'll just keep moving on
So if you want to join me for a while, just grab your hat, come travel light, that's hobo style
Maybe tomorrow, I'll find what I call home, until tomorrow, you know I'm free to roam
---
Lesson of the Dog and the Wolf
---
With regard to ownerless hobo dogs, the subject brings to mind the old fable which has been told in a variety of ways over the years. This short classroom lesson sheet presents the idea nicely.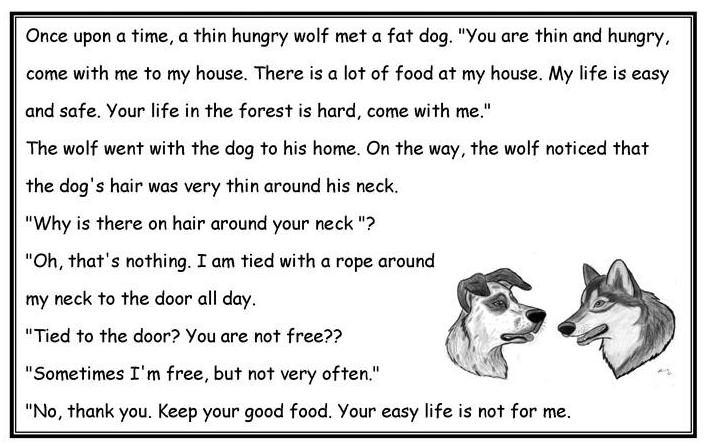 ---
Hobo Ethical Code (1889)
---
Hobo ethics - with all the homelessness on the streets today, it's just what our world needs.
Did you know there are many good street people who already follow a version of this code? Psychopaths are really few and far between, and whatever your profession, you must recognize these characters fast.
Drunks, addicts, and psychopaths are to be quickly recognized and avoided!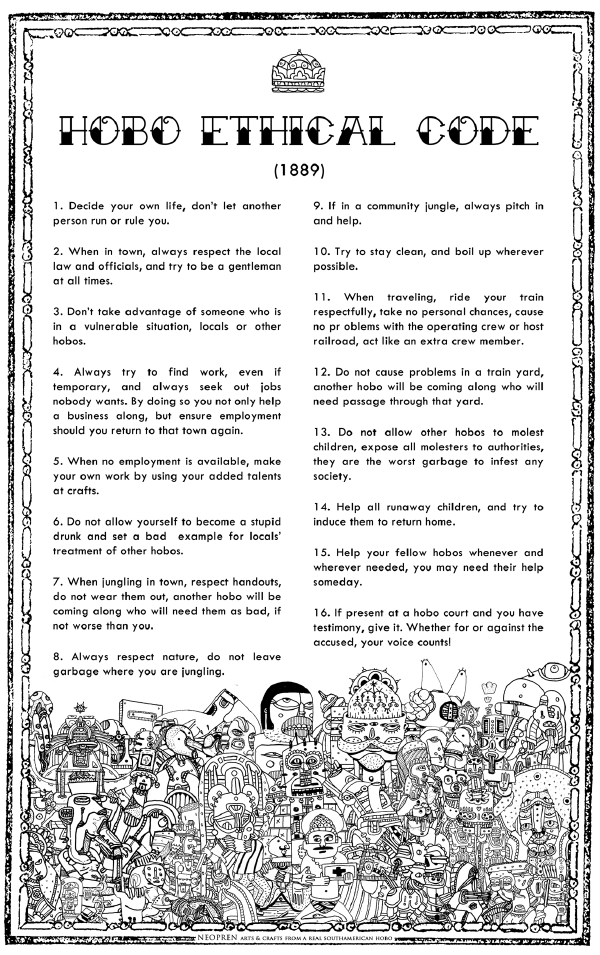 ---
Spare some change?
---
I have a rule never to beg while on the road, but if you've put up with my content so far, please consider sending just a tiny bit of Bitcoin, because every little Satoshi helps!
My Public Address to Receive BTC: bc1q5t5xh09rum7ws8ns6rgv496ehet98hlwl446s4
---
Temporary Place of Refuge
---
It's a fact that one way or another, we all must earn our keep. This hard reality pushes me forward toward generating a retirement income.
For whatever reason, if you can't send Satoshi, might you offer an empty space and bath? A temporary place to spend a night or two will do. I'll help you out in whatever way works best!
But you are where you are, and where in the world am I? There is only one way to find out. Looking for me along the roadside is not going to work. You must write to me and invite me into your world.
---
Books and Stuff from Amazon
---
Amazon is somewhat of a necessity for many of us. Most large cities now have pickup lockers, and as a transient, that's just great.
Every year I need to replace tires and bicycle parts, and every few years a technical device or two. Whether stationary for a while or on the move, I always enjoy reading digital books.
Here's the story behind Amazon.
I am an early adopter of what is known as being an "Amazon Affiliate". For what it's worth, I've never earned any real income from that game, but I keep trying.
Care to help out a bit?
Then read on.
Earning income as an Amazon Affiliate is simple: a web content producer like myself must send buyers directly to Amazon through custom advertising links like this one:
Are you a coffee aficionado? Want to enjoy quick and delicious brews on the fly? Check out this innovative coffee press. It's simple - a tablespoon of your favorite blend, and just add hot water.
The AeroPress has a buyer satisfaction score of 4.8/5.0 with over 12,000 ratings! I also carry the reusable Altura mesh filter. Here are a bunch of YouTube videos about the AeroPress.
Whenever one of my links sends a shopper to Amazon, I just might possibly receive a tiny commission. It depends on what you buy, and how much you spend. It's that simple.
When you do shop at Amazon, always enter into the Amazon world through one of my referral links!
Even if you don't buy the item referred, as long as you begin your buying session through my referral link, I just might earn enough for another can of sardines!
So bookmark one of my Amazon referral links. Use it every time as your gateway for shopping at Amazon. Every time you have an urge to buy something, the Amazon gods just might toss me a small reward!
Now here's a book I recently read with pretty good ratings. Don Petterson had the good fortune of having plenty of retirement money to back himself up, and there's nothing wrong with that. Long distance solo touring the easy way is still a challenge, not for the faint of heart.
No need to buy Don's book if you're not interested. But if you'll enter Amazon through my referral link, well, now you know the story of how Amazon works.
And there's no need to close out your order today! Just by adding any item into your shopping cart you'll be helping me along the way.
---
Wrapping it all up
---
Thanks for reading, and write to me!
You can do it, yes you!
Be inspired!
Get out there and start peddling your ass off, because that's where it all begins!
---
---
Rough draft - under construction.
(c) do not copy without asking
Send email for direct conversation.


06 May 21
Thought of the day

I love the sound and fury of a thunderstorm. I love to experience a wild and violent thunderstorm, but under a shelter. That is all I need - a shelter, and little bit more. I am happy with the raw experience of a raging thunderstorm. Of course no one wants to be hit with lightning. It's not every night we have a thunderstorm. Sixty-five years ago this very day I was born.

12 May 21
Thought of the day

Look at the mess the world has found for itself.

Societies and governments, hoards of people at odd everywhere, bi-polarity, duality, conflict, confrontations ... endless violence, mental illness, addictions, and crazed, lone, psychopathic killers who prey upon the helpless. Homelessness, jails and prisons, take a sincere and deep look at what we have before us.

Where do you live? How do you live? Where do you find your hope and security for the future?

Are you frightened? Feeling insecure? Believe me when I say it is dangerous out there. There is comfort to be found behind a locked door.

Hamas and Israel are dealing each other death and destruction. Many believe now is the time to crush and wipe out Hamas in Gaza.

War, bloody wars, this is no end, there will never be an end. Global social discord with fester and grow reaching a crescendo. Regionally this will affect you.

Within your extended community, you have many problems. I rely on a fragile supply chain to keep yourself well fed and comfortable. Given their locality and support structure, some are much better off than others. Where do you fall in all of this?

Outside of ourselves, our immediate family, and our closest of nearby friends, the general community is your support structure. In what condition do you find you general community?

You may disregard your general community, that big world outside of yourself, but it remains to exist, with all it's goodness and troubles, necessary as your very life sustenance depends upon it.

Our you may choose to relegate concern for societal problems to unseen and unknown others, with the hope that it will all work out for the good someday, while in the meantime you rest assured that you'll be okay, or at least you hope you will.

Why do I even bother concerning myself with anything or anyone beyond myself? I'm old enough to provide for myself and will get along fine enough in the years to come. I cannot complain as these have been the best of time, and the worst of times. All that is due to us will come to us in time. Our day will come.

Why have even the least bit of concern for society, our rule of government, the endless violence, the sick and deranged, the homeless, or those in prison? The plight of others has nothing to do with me.

Tell me why anyone should have any concern for those outside of immediate family or dear friends? Why should anyone care anything at all about a stranger? You will only find trouble randomly caring for strangers.

There is a good side to humanity, and a bad. We live in a sick world growing sicker by the day. As it is with us all, the end situation is fatal. In this sick and dying world, good people often are caught up in bad circumstances. Sick, dying, dead.

13 May 21
Thought of the day

Peace in the Middle East - I've heard the cry through three generations of time, There is no peace and there will never be peace in the Middle East. Three religions at war, two violently. The Buddhists and the Hindus seem to keep out of it, but they have their own problems with the other guy.

13 May 21
Thought of the day

Throwing in the towel - what does it mean? The fight is over, the struggle is ended, we are now at peace. Our government is the problem. We are no longer a free people. Only a small few will escape the evil grasp of government. Head for the hills everyone! Batten down the hatches! Check those locks and bolts and pray for the best!

14 May 21
Thought of the day

Sadness, joy, happiness, light-heartedness, moving with our emotions. Time moves ahead quickly, feeling as if we never have enough. I thought to write a book for when they find me along the side of the road. Always feeling free while on the road. Don't let those thunderstorms get you down! Did the bombing stop? How about that bridge along the Mississippi? Not a good sign at all.

Then the gasoline pipeline to the east hack ... and the Suez Canal incident ... microchip shortage ... a phony pandemic? The fall of the Republic? The end of money as we know it? Yes, it seems it's all happening.

All we can do is forget about this world! Let's hope our supply chain is in order. Gas, electrical, water, food ... guns? I don't carry weapons, worse yet, I'm not a fighter. Only defense I have is between my two ears. Then too there is the way of the cross ... martyrdom!